SDG-05SK Double Group Sealant Extruder
Product Detail
Product Tags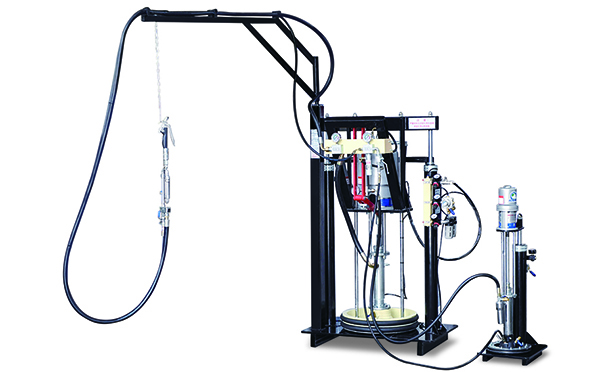 Features
1. The wholly pneumatic machine's main parts(including A and B component glue pump, gelatinize gun and safety valve) are imported from South Korea, or made of high-tension and quality stainless steel with thermal treatment, the reliability and durability of the machine is greatly improved.
2. The machine's curing agent system is fully closed, which can prevent the agent from exposing to air and getting solidified.
3. The fluid flow rate stability is ensured and mixing effect improved. The system is also equipped with a pipes overload protection device, which makes it to be more safety for operation.
4. The A and B component glue pump and proportional pump's high pressure valve are made of ground special leakage-free alloy.
5. The special and convenient mix device can ensure the high precise mixture performance.
6. The internationally prevailing stationary reciprocating mixer is used in the machine, with the specially designed needle valve, the mixture result is excellent. The special material with elasticity is used to make the dispensing nozzle.
7. The operation of the imported dispensing gun with a reliable sealing.
8. The machine can be used to spread two-component Polysulphide glue or silicone glue.
9. It's a high efficiency double-group sealant extruder which is widely used for all kinds of insulating glass unit / IGU production line. It's also used for curtain wall, facade glazing.
 Main technical parameter: 
| | |
| --- | --- |
| Mix ratio | 6:1~14:1 changeable |
| Max. amount of extruded glue | 4L/min |
| Pump A platen diameter | 55 gallon(200L) φ565mm |
| Pump B platen diameter | 5 gallon (20L) φ285mm |
| Max. air consumption | 1.2 CBM/min |
| Sealant pressure ratio | 50:1 |
| Air supply | 0.5~0.8Mpa |
| Overall dimensions | 1100 x 950 x 2500mm |
---
---
Write your message here and send it to us
Products categories